Books
Not Alone by Gaelyn Whitley Keith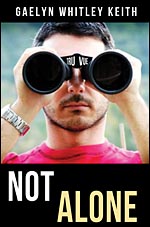 Find a comfortable chair and spend a few hours with Joe---and if you're blessed in a magnificent way, you may encounter a world that can change your life forever. Have a good visit! Have any of you suffered an injustice, been overlooked, ignored, rejected? Has anyone been denied, repudiated, negated, humiliated, devastated, infuriated, frustrated, or transgressed upon? You're a good person. So why have people disrespected, slighted, wounded, snubbed, oppressed, held down, discriminated against, beaten down, distressed, tortured, haunted, bullied, teased, tormented or talked smack about you? Why? And when it was over, did you think... I don't deserve this! Why me? I'm a good person! If someone is going to get divorced, have a heart attack, be mugged or raped, blown up by a terrorist, lose a limb in an accident, be swindled, slandered, foreclosed on, or fired, don't you think it should happen to someone who deserves it? It should never happen to me! I'm a good person! Well, if any of this has happened to you, I just want you to know that Joseph Michael Moretti has found the answer!
Purchase Signed/Inscribed Book:
PURCHASE SIGNED OR INSCRIBED COPIES OF NOT ALONE
Signed or inscribed copies of NOT ALONE are available directly from the author at:
$15.00 for Trade Paperback
There are two ways to order:
1. Order by mail.
Click here for a print-friendly order form.
Send check or money order payable to NOT ALONE along with completed order form to:

NOT ALONE
2095 Vista Mar Drive
El Dorado Hills, CA 95762
2. Order online.
Click the appropriate Buy Now button below to order online and pay via PayPal's secure payment system. (Note: you do not need a PayPal account to pay using this method.)
---
One of our favorite books on the topic is: The Tongue: A Creative Force by Charles Capps.


The Tongue: A Creative Force (Paperback)

This book was published over 40 years ago. My dad, Ward T. Keith purchased this book from Charles Capps. My Dad said, "Charles was on the cutting edge of getting God's message out to the body of Christ. God wants us to be successful."

I find even today there is to much incorrect preaching and teaching on this subject. God had to inspired a Arkansas farmer to teach us the truth. We should be blessed coming in and going out. This is said over and over in the Word of God. I read this book and it changed my life from rags to riches, glory to God.